Website Development in Tunisia
Gain instant global visibility through website design. Our dedicated team specializes in creating, designing, and optimizing showcase, e-commerce, custom, and ERP websites. Our goal is to support businesses, agencies, and individuals in realizing their projects by providing them with tailored, effective, and scalable expertise and solutions. Throughout the process, our team assists you to ensure the success of your website: creation, hosting, SEO, and programming. Harness the vast potential of the Internet to enhance your market visibility! A website enables your company to establish an online presence, promote your activities, showcase your products, and much more.
Yes2Dev is your partner agency
Tunisia Web Solutions offers a comprehensive range of services for the design and development of online stores in Tunisia. Our company specializes in assisting businesses in creating their e-commerce websites, enabling them to improve sales, increase revenue, and attract new customers.
We provide a globally recognized Content Management System (CMS) that caters to the specific needs of e-commerce. This CMS solution in Tunisia facilitates seamless online payment processing and efficient management of product sales and order deliveries.
Our team is committed to creating highly secure online stores in Tunisia using an advanced e-commerce CMS solution. This robust system provides reliable protection against malicious attacks, ensuring a safe and secure online shopping experience.
Simple and Efficient Showcase Website
We construct straightforward and effective webpages that align with our clients' desires and specifications. Our exceptionally skilled professionals provide you with a customized search engine optimization (SEO) plan that corresponds to your specific sector and outshines your competitors within it. Whether it be for an SEO-focused online store, an SEO-enhanced product catalog, or a showcase website with optimized SEO elements.
What are the advantages of opting for a personalized website?
Selecting a custom website brings numerous benefits. It serves as a crucial communication tool, offering a personalized identity by tailoring the development to your specific infrastructure. Moreover, it delivers targeted content and streamlines service management, effectively showcasing your products and guaranteeing a favorable return on investment. Our customized solutions enable you to centralize information and facilitate real-time sharing with colleagues, partners, and clients. We specialize in designing bespoke solutions that precisely align with your expectations, incorporating speed, efficiency, and robust security measures.
Exploring the Features and Services of Real Estate Websites
A real estate website is a type of website that provides information and resources related to the buying, selling, renting, and management of properties. These websites typically include listings of properties for sale or rent, as well as tools and resources for property search and navigation, such as interactive maps, virtual tours, and property information. Some real estate websites also offer services such as property management, mortgage calculators, and home value estimates.
The web agency Yes2Dev advises and supports you from conception to the development of your website
Our approach is to validate each step before moving on to the next. Here's an overview of our process:
Management of business activity
Gestion des campagnes marketing
Management of quotations or price offer
Management of opportunities or business
Management of companies and contacts
Management and monitoring of objectives achieved
Inventory management and optimization
Management of products or services
Efficiently Transform Your Business with an Integrated and Powerful ERP System (Enterprise Resource Planning)
Are you feeling the urgent need for a powerful tool that will centralize your data and simplify the management of all aspects of your business, whether it's sales, management, production, accounting, logistics, or human resources? Look no further! Our experienced team is here to create a custom management software perfectly tailored to your business needs.
CRM (Customer Relationship Management): The key to commercial success
CRM (Customer Relationship Management), also known as customer relationship management software, is an essential tool for businesses looking to effectively interact with their customers and prospects. Primarily used by sales and marketing teams, this solution aims to boost sales. However, its usefulness extends beyond the realm of sales and marketing, as it also promotes collaboration by enabling data sharing, thus ensuring quality service.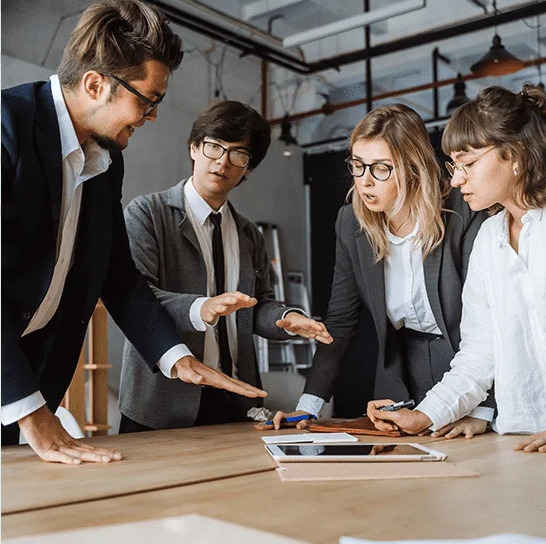 THE VALUES OF YES2DEV
If we are to define the values that define the identity of our company and that all yes2dev employees adhere to, we will detail them as follows:
Professional skills
Qualifications, skills and experience
are the basis for choosing our employees
Transparency
We opt for a 100% transparent strategy with our customers
Unique approach
For each client, an approach adapted to their requirements and needs
Responsiveness
We always respond when needed
Are you ready to start your project?
More than projects, our clients are partners that we support on the road to success. Find out who we trusted and how we helped them set up or expand their businesses.